Open venues in England are split into two geographical areas, Kent and the Merseyside / Lancashire coastline. While Kent only has one active course on the Open Rota, Princes and Royal Cinque Ports are former hosts and provide what many consider to be one of the finest England Golf Tours in the UK with all 3 courses just 15 minutes from each other (so close in places an out of bounds drive from Royal St George's can find itself at Princes). Those travelling to the North West of England can enjoy the very different layouts found at Royal Liverpool (Hoylake), Royal Birkdale and Royal Lytham & St Anne's which will create an excellent golfing tour.
England's Open Courses
6 Nights Hotel Accommodation & 6 Rounds of Golf
Day 1  Depart USA for England
Day 2  Hotel:   Grand Hotel, Lytham           Golf:  Royal Lytham & St Annes
Day 3  Hotel:   Grand Hotel, Lytham           Golf:  Royal Liverpool - Hoylake
Day 4  Hotel:   Grand Hotel, Lytham           Golf:  Royal Birkdale
Day 5  Hotel:   Bell Hotel, Sandwich           Golf:  Princes
Day 6  Hotel:   Bell Hotel, Sandwich           Golf:  Royal Cinque Ports
Day 7  Hotel:   Bell Hotel, Sandwich           Golf:  Royal St Georges
Day 8  Depart England for USA
The following categories of accommodation are available:
Classic         Vincent Hotel, Southport & Abode Hotel, Canterbury
Executive     Grand Hotel, Lytham & Bell Hotel, Sandwich
The following transportation options are available:
Self-Drive   Fully automatic rental vehicle
Escorted     Luxury vehicle with personal driver/guide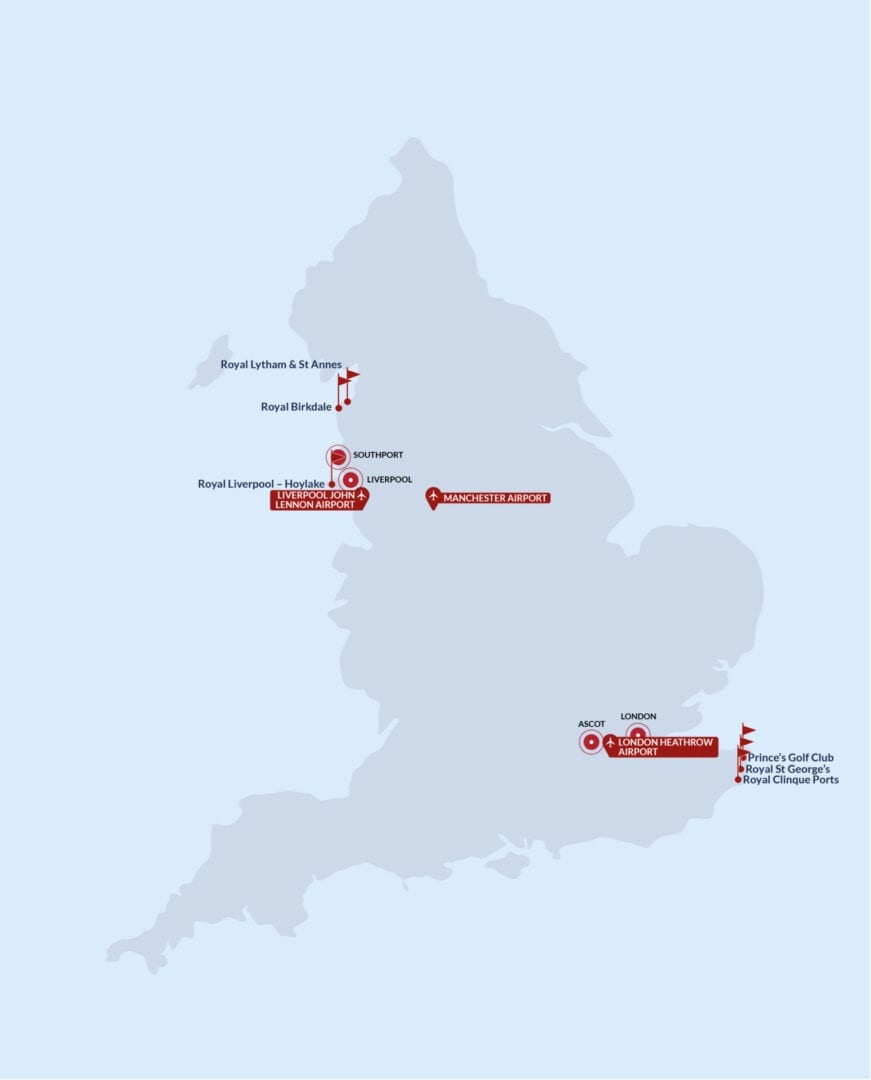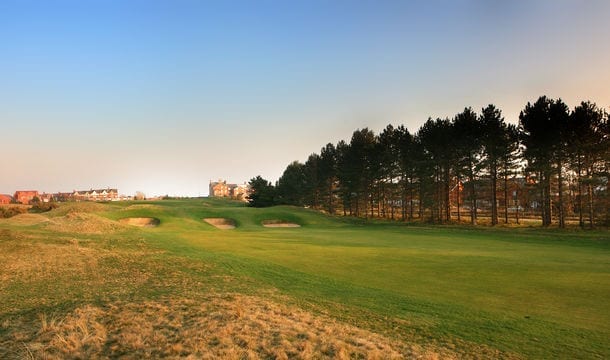 Full practice facilities
Renowned as a course in which it is hard to scramble a good score, Royal Lytham & St. Annes has just the 174 bunkers peppering the fairways and surrounding the greens. It is not a conventionally beautiful golf course as it is surrounded by suburban housing and flanked by a railway line, but it has a charm all of its own. Royal Lytham & St Annes has hosted the Open Championship on 11 occasions.
Full practice facilities
The Royal Liverpool Golf Club links at Hoylake can be beautiful, uplifting, challenging, and even daunting when the wind really blows and the summer rough is deep. The course was created to be a demanding test of golf and remains so, and lies at the very heart of the history and development of the game in Great Britain.
Hoylake makes the trickiest demands of a player's shot selection, distance control and accuracy.
Full practice facilities
Situated on the golden links of the North West coast in Southport, Royal Birkdale is possibly the finest of all courses in England. Royal Birkdale has held more Championship and International events since World War 2 than any other course in the world. A visit to Royal Birkdale will give you the opportunity to follow in the footsteps of the greatest golfers in the world and recreate some of the most iconic moments in the history of the game.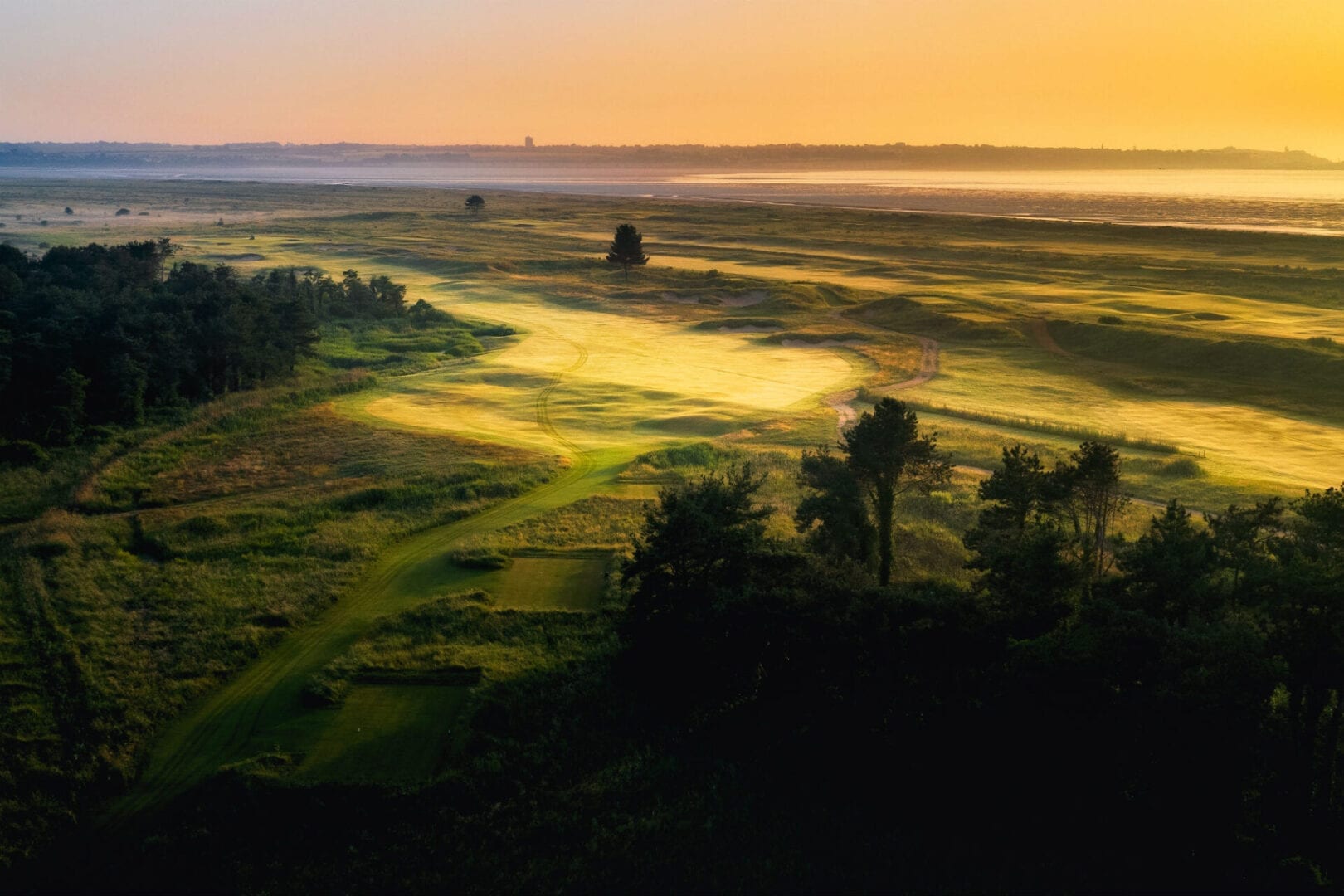 Full practice facilities
While steeped in history, Prince's Golf Club offers all that is best in modern championship links golf in an idyllic coastal setting. A host of Local Final Qualifying for The Open Championship from 2018 to 2022, Prince's also co-hosted The Amateur Championship in 2013 and 2017. Prince's Golf Club have 27 Holes, practice facilities and a centrally located clubhouse. Helpful, attentive and informative staff are on hand to cater for your needs.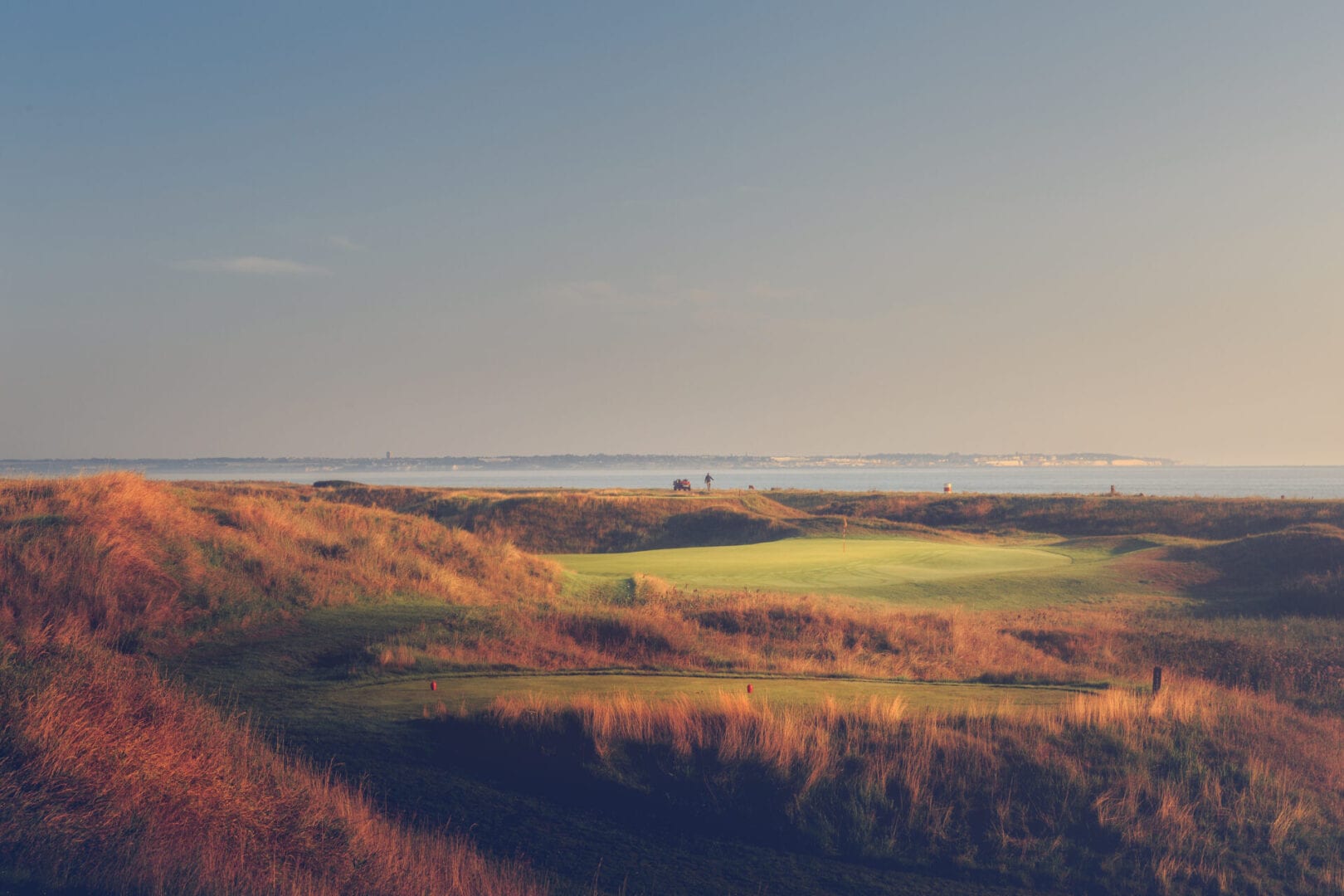 Full Practice facilities
Royal Cinque Ports is a Championship Links course of the highest standard with a classic out and back layout. Its fast rolling fairways and superb greens have stood the test of time and provide a stiff challenge to lovers of links golf.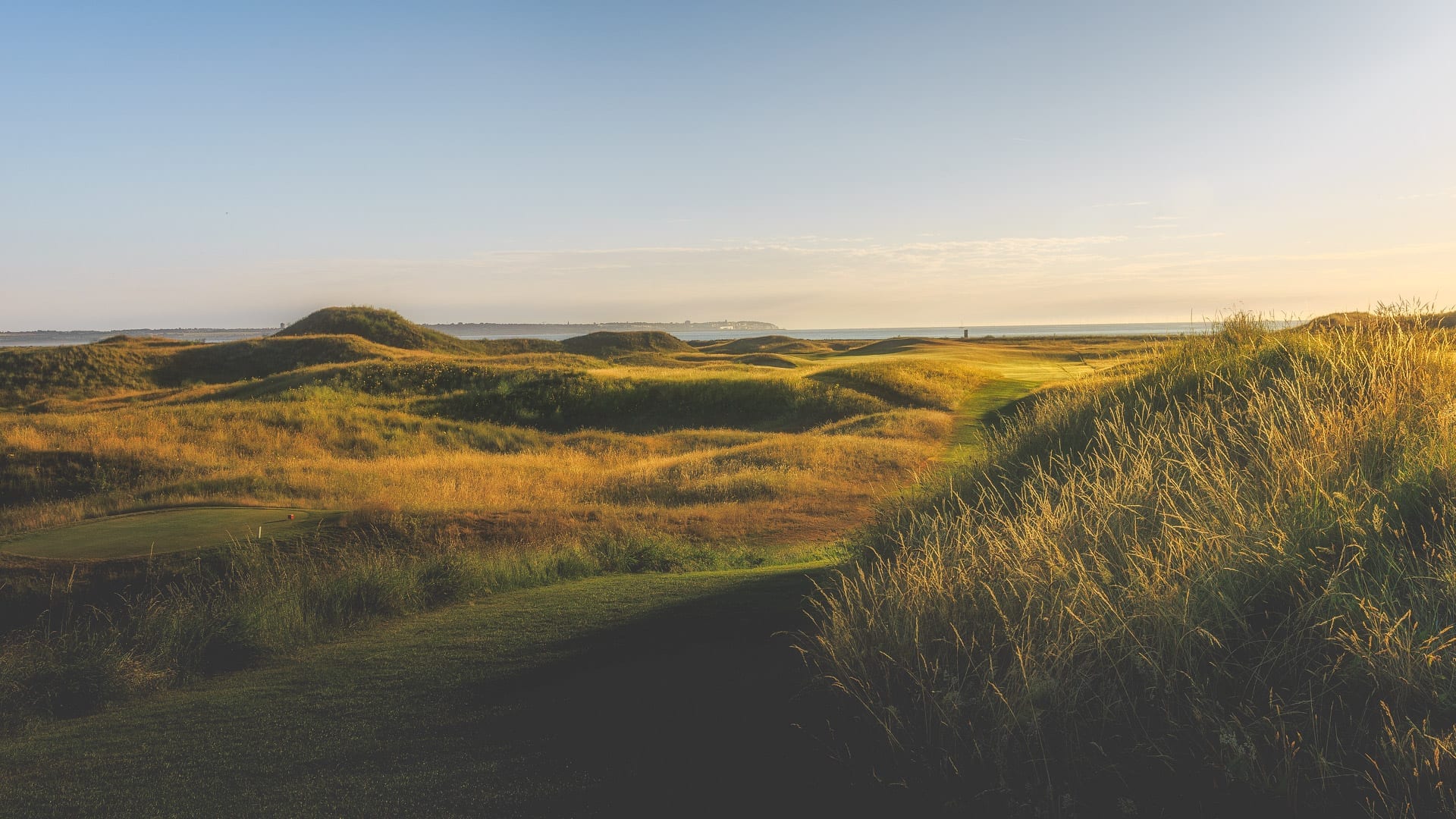 Full practice facilities
The Club occupies a unique place in the history of golf, for it was here in 1894, that the Open Championship was first played outside Scotland. The Open Championship returns to St George's for the 15th time in 2021, when the Club will host the 149th Open Championship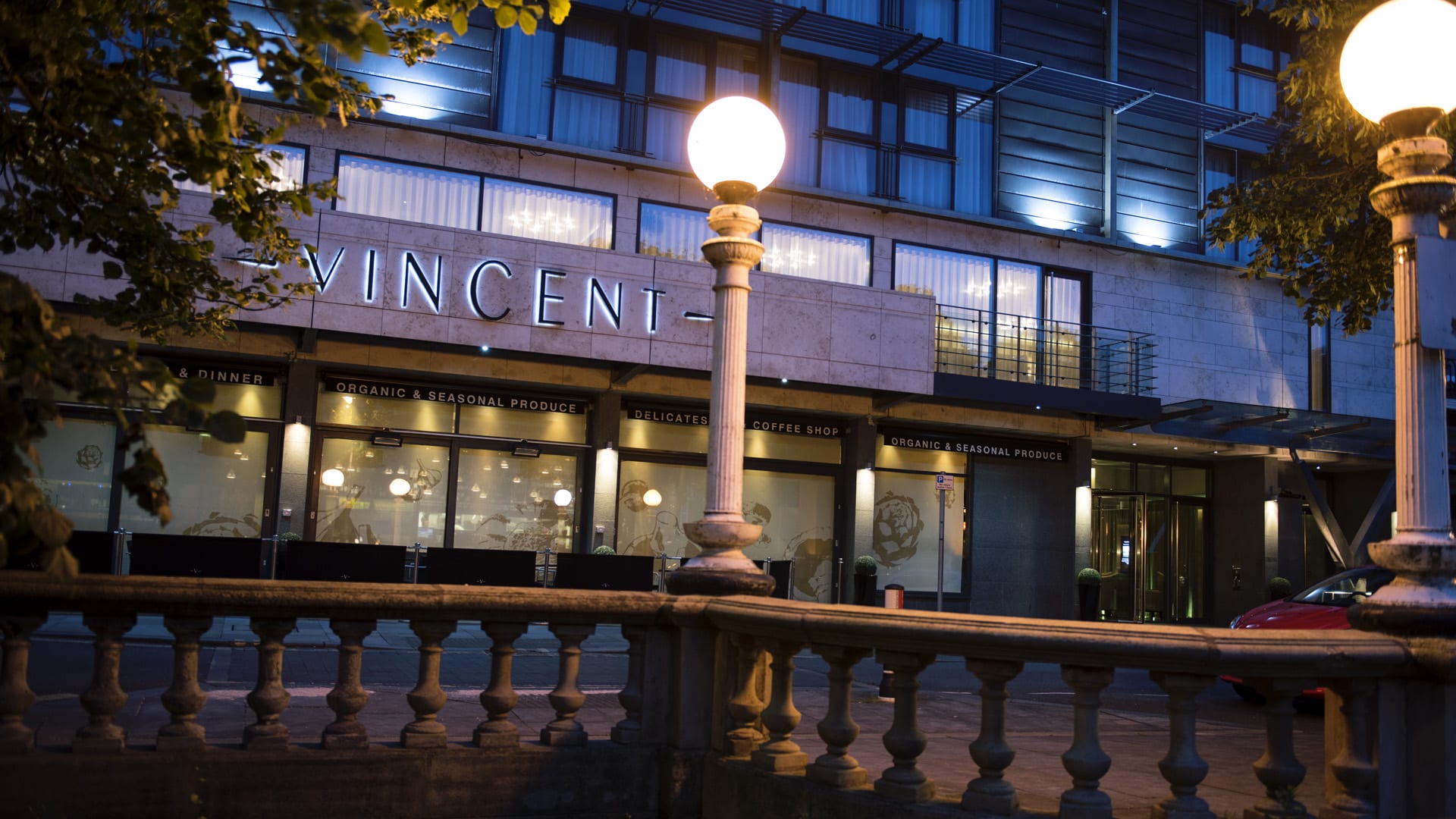 The Vincent Hotel in Southport is a unique lifestyle hotel in the North West of England. Situated on Lord Street, Southport's Parisienne Boulevard, the Vincent takes comfort and personal service to new heights – all within a fresh, stylish and contemporary interior.
The hotel is a great base for golfing the Open Championship venues at Royal Liverpool, Royal Birkdale & Royal Lytham and St Anne's.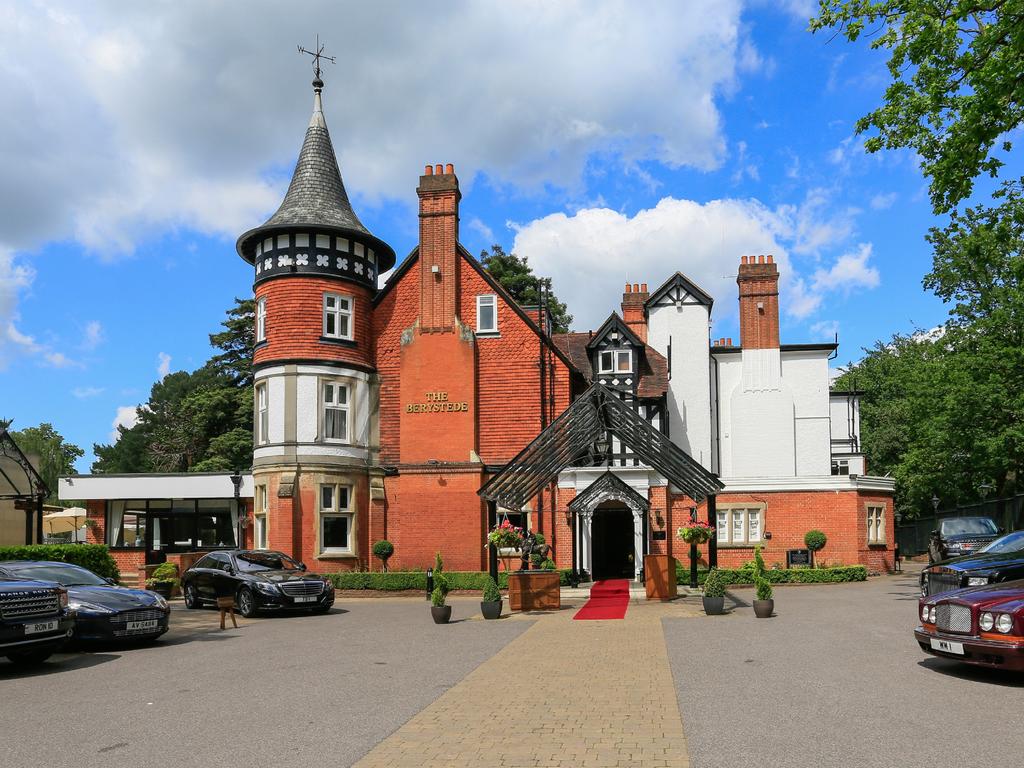 Macdonald Berystede Hotel & Spa in Ascot is a beautiful, accessible, four-star hotel near Windsor which is surrounded by amazing landscaped gardens. The AA-rosette award-winning Hyperion Restaurant serves a range of contemporary English and European cuisine, carefully crafted dishes using the finest quality.
The hotel is situated close to Wentworth so is a great base when golfing in the South.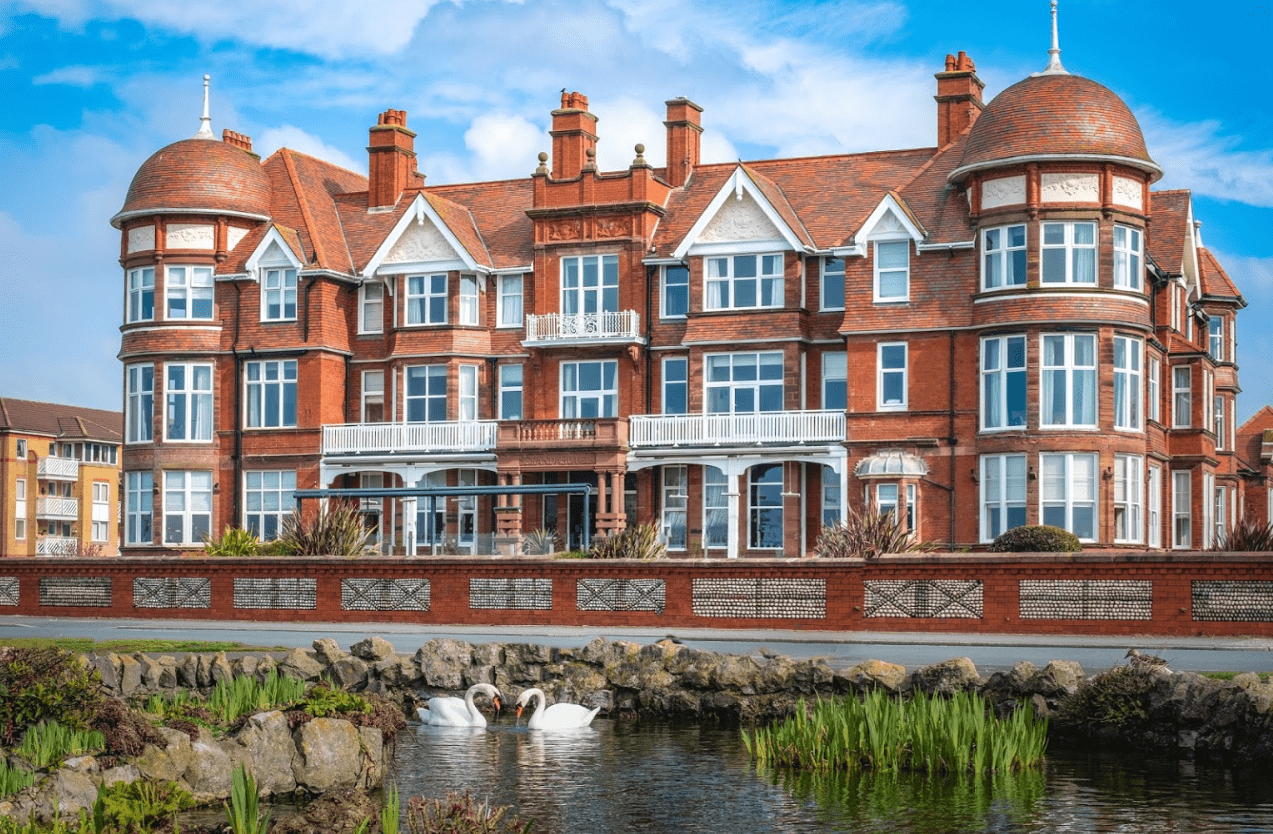 With an unrivalled position on the lively seafront and just moments from the both Lytham & St Annes town centres, The Grand Hotel is perfectly located to explore and discover this unique and iconic British seaside destination. The Grand Hotel is the perfect base for your golfing trip to England's Northwest Coast.
The scenic route to five-star bliss. Coworth Park offers idyllic relaxation in many guises, from a rural detox to an indulgent, romantic escape. Here you'll find an experience to refresh every sense within our welcoming oasis of calm.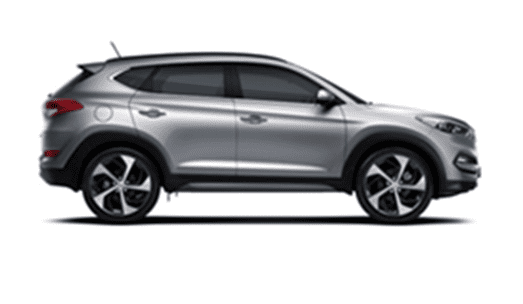 Hyundai Tucson
(or similar)
Suitable for 2 golfers
Fully automatic transmission
40 miles MPG (approx)
Air-conditioning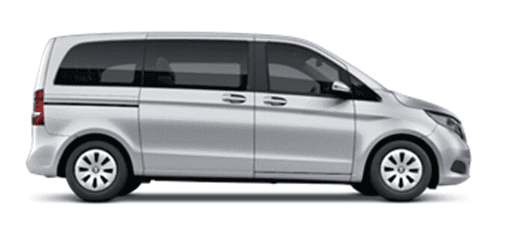 Mercedes Vito
(or similar)
Suitable for 4 golfers 
Fully automatic transmission
30 miles MPG (apprx)
Air-conditioning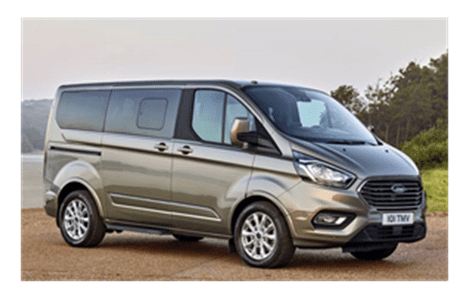 Ford Tourneo Custom
(or similar)
Suitable for 4 golfers& luggage
USB charging points
Stocked with water, soft drinks & snacks
Driven by your personal driver-guide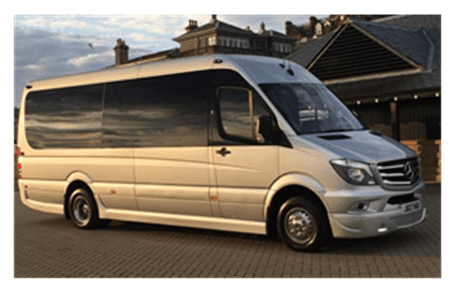 Mercedes Sprinter VIP
(or similar)
Full privacy glass
Suitable for 6 - 8 golfers & luggage
Leather reclining captain's chairs
Tables & TV's
USB charging points at each seat
Stocked with water, soft drinks & snacks
Driven by your personal driver-guide