Ireland's Southwest Coast
6 Nights Hotel Accommodation & 6 Rounds of Golf
Day 1  Depart USA for Shannon
Day 2  Hotel:  Killarney Royal Hotel                      Golf:  Tralee
Day 3  Hotel:  Killarney Royal Hotel                      Golf:  Old Head Golf Links
Day 4  Hotel:  Killarney Royal Hotel                      Golf:  Waterville Golf Links
Day 5  Hotel:  Vaughan Lodge Hotel                    Golf:  Ballybunion
Day 6  Hotel:  Vaughan Lodge Hotel                    Golf:  Doonbeg
Day 7  Hotel:  Vaughan Lodge Hotel                    Golf:  Lahinch
Day 8  Depart Shannon for USA
The following categories of accommodation are available:
Standard        Brook Lodge & Lahinch Coast Hotel
Classic           Killarney Royal Hotel & Vaughan Lodge Hotel
Executive       Aghadoe Heights Hotel & Trump Doonbeg
Luxury            Killarney Park & Adare Manor
The following transportation options are available:
Self-Drive   Fully automatic rental vehicle
Escorted     Luxury vehicle with personal driver/guide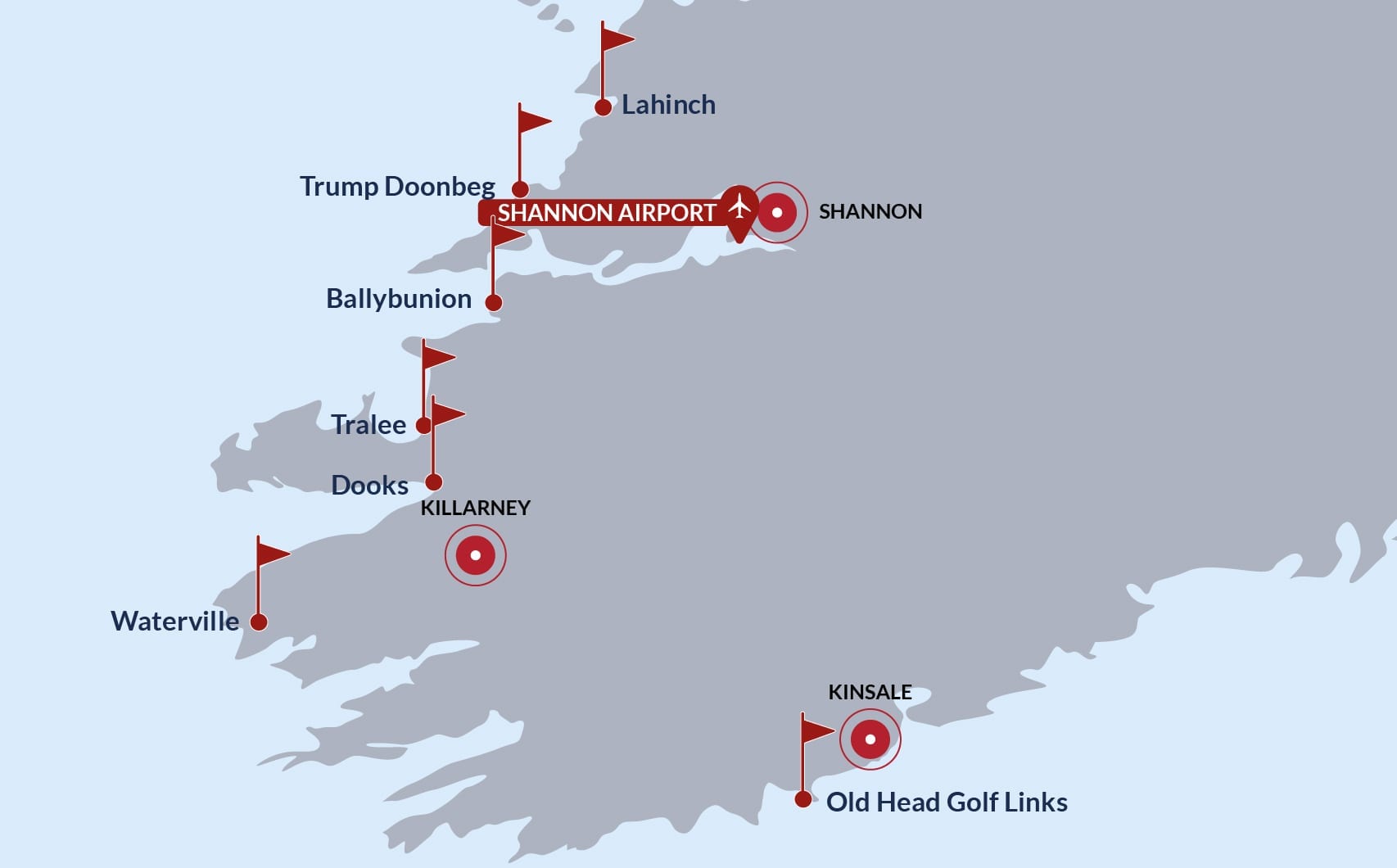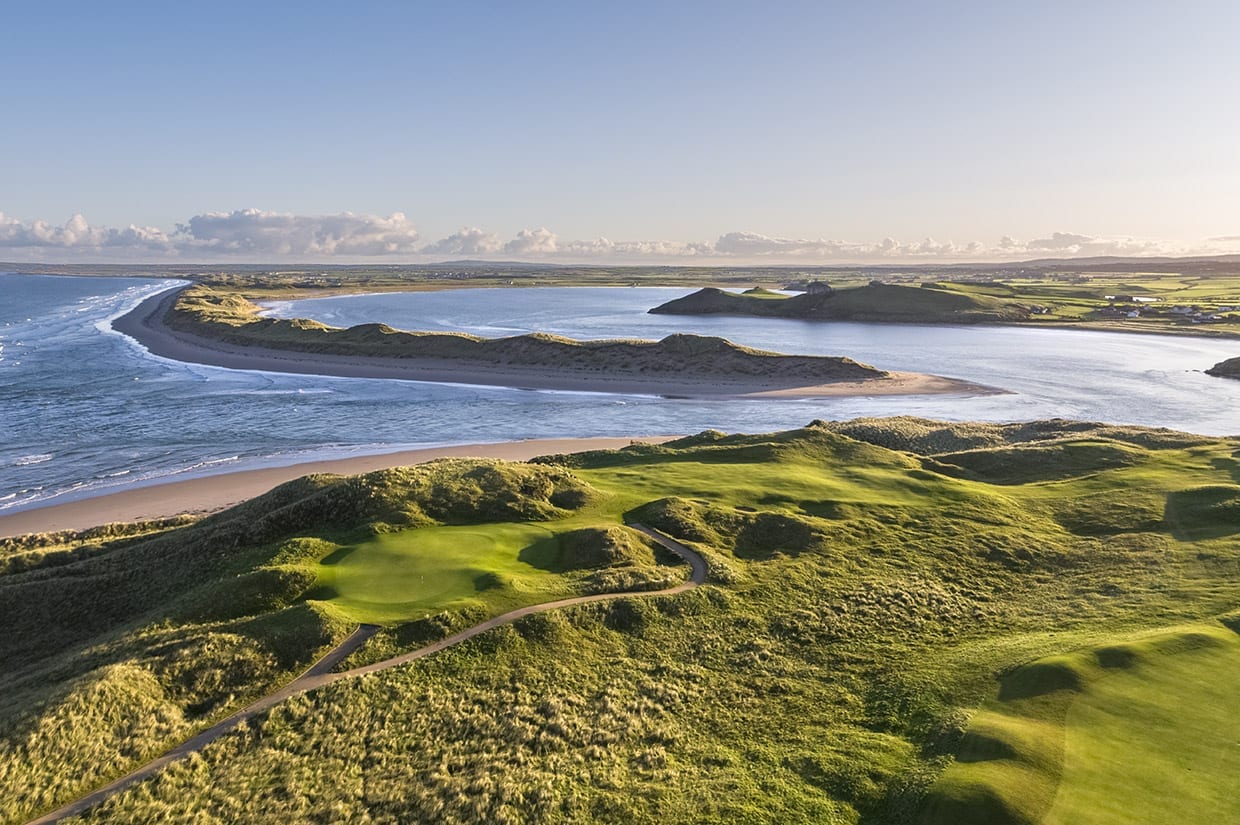 TRALEE GOLF CLUB
6975 YARDS - PAR 72 - USGA 73.4
Full practice facilities
Situated on the rugged Atlantic coast of Ireland's south west, the links features towering dunes, undulating fairways, punishing rough and cliff top tees and greens. This stunning setting represents a true paradise for those willing to challenge what is widely acclaimed as one of the finest links courses in the world.
"I may have designed the first nine, but surely God designed the back nine."
Arnold Palmer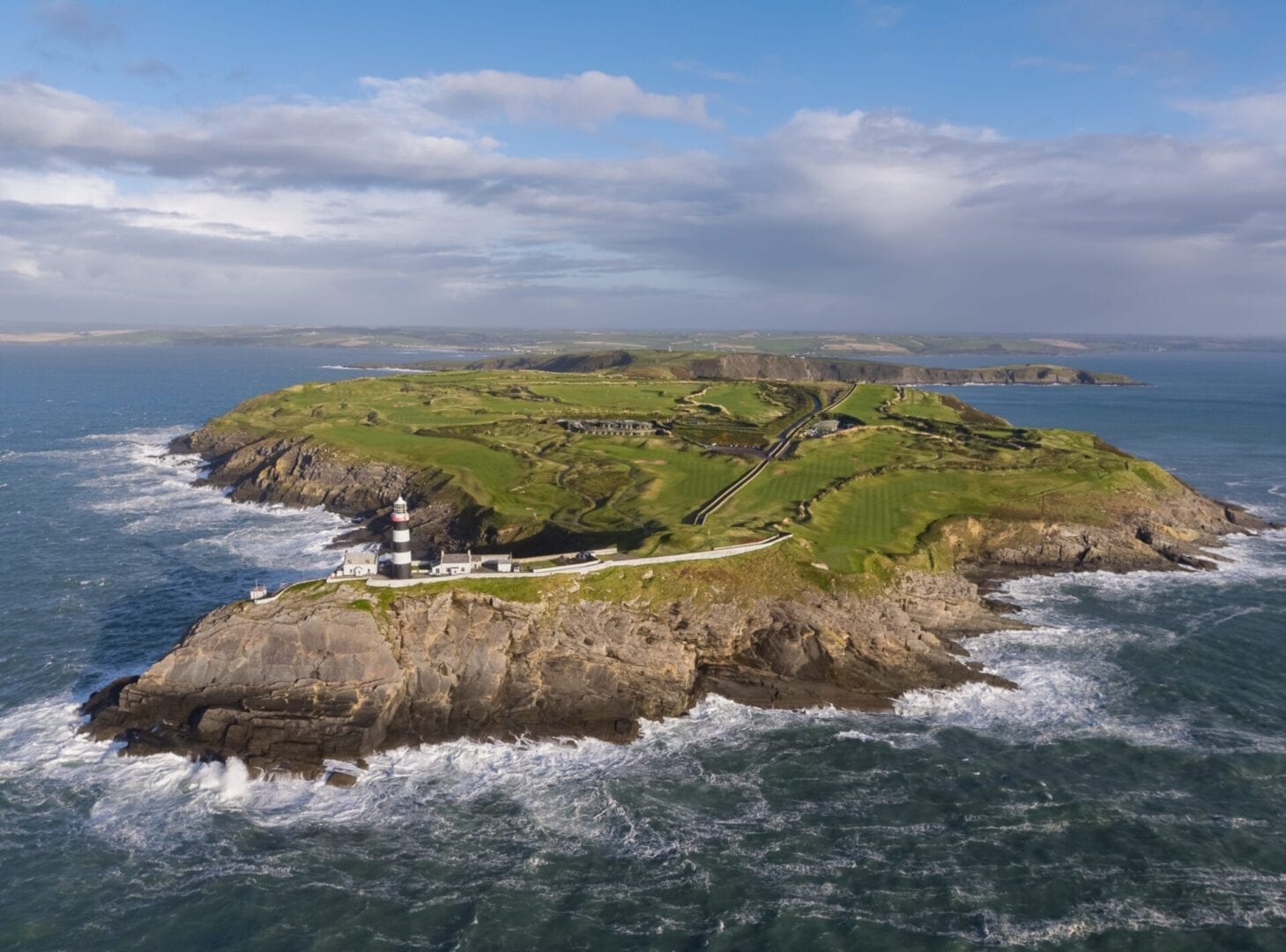 OLD HEAD GOLF LINKS
7120 YARDS - PAR 72 - USGA 74.1
Full practice facilities
Occupying a stunning and unique headland reaching out over two miles into the Atlantic Ocean, the Old Head of  Kinsale is home to the most spectacular world-class golf course and luxury members' accommodation. The Club has developed into one of the most recognized and sought after golf experiences anywhere on earth.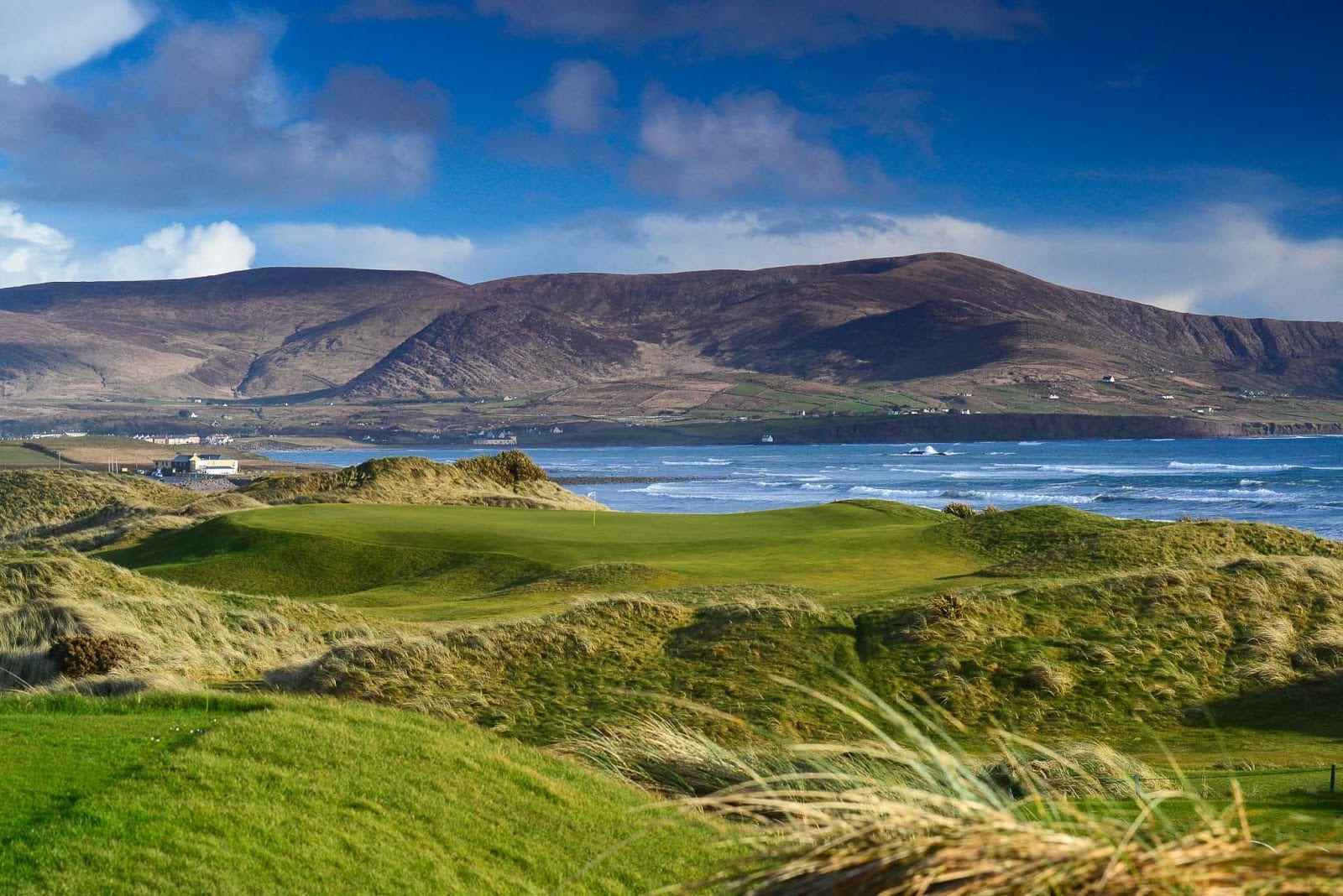 WATERVILLE GOLF LINKS
7378 YARDS - PAR 72 - USGA 77.9
Full practice facilities
Waterville Golf Links will provide you with a truly mystical experience. Surrounded by the sea it combines the beauty of classic links land which is forever challenged and shaped by the elements. United States team member Payne Stewart accepted the Captaincy of Waterville – the last golf honor he would receive before his tragic death. Today, a life sized bronze statue pays tribute to his Captaincy and his special relationship with Waterville.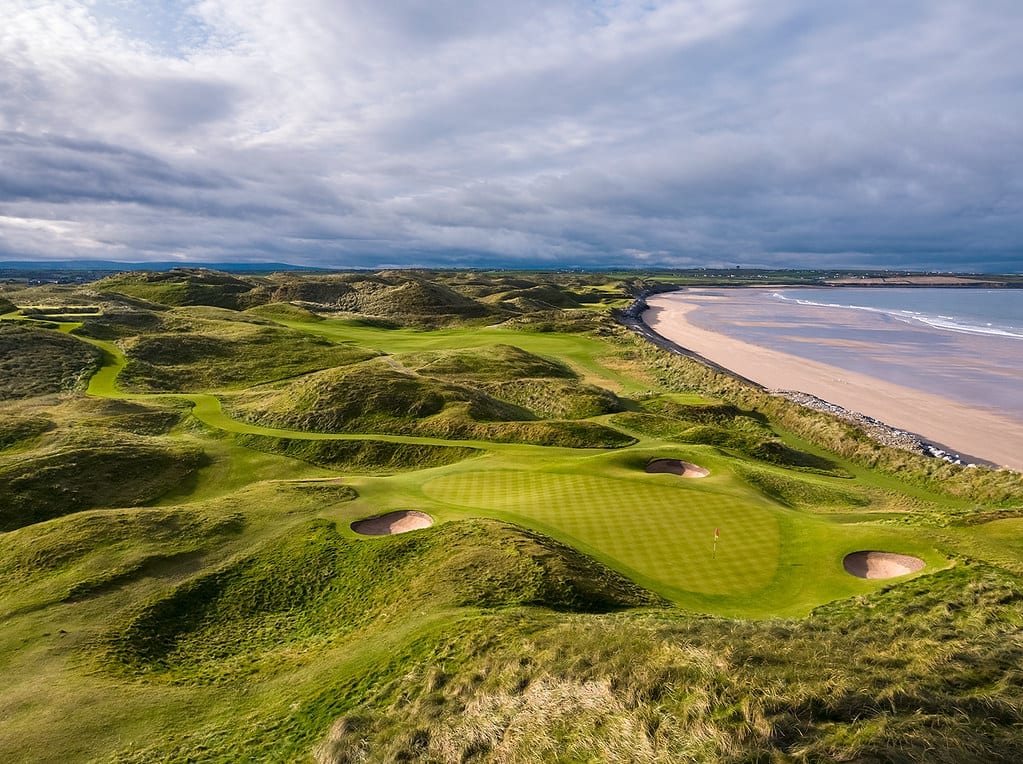 BALLYBUNION - OLD COURSE
6802 YARDS - PAR 71 - USGA 72.4
Full practice facilities
Located on the north west coast of County Kerry, on a beautiful stretch of sand dunes overlooking the Atlantic Ocean, you'll find two wonderfully challenging and unique world class links golf courses at Ballybunion – the Old Course and the Trent Jones Cashen Course.
Whatever your choice, every hole, every hazard and every shot is defined by nature's infinite presence.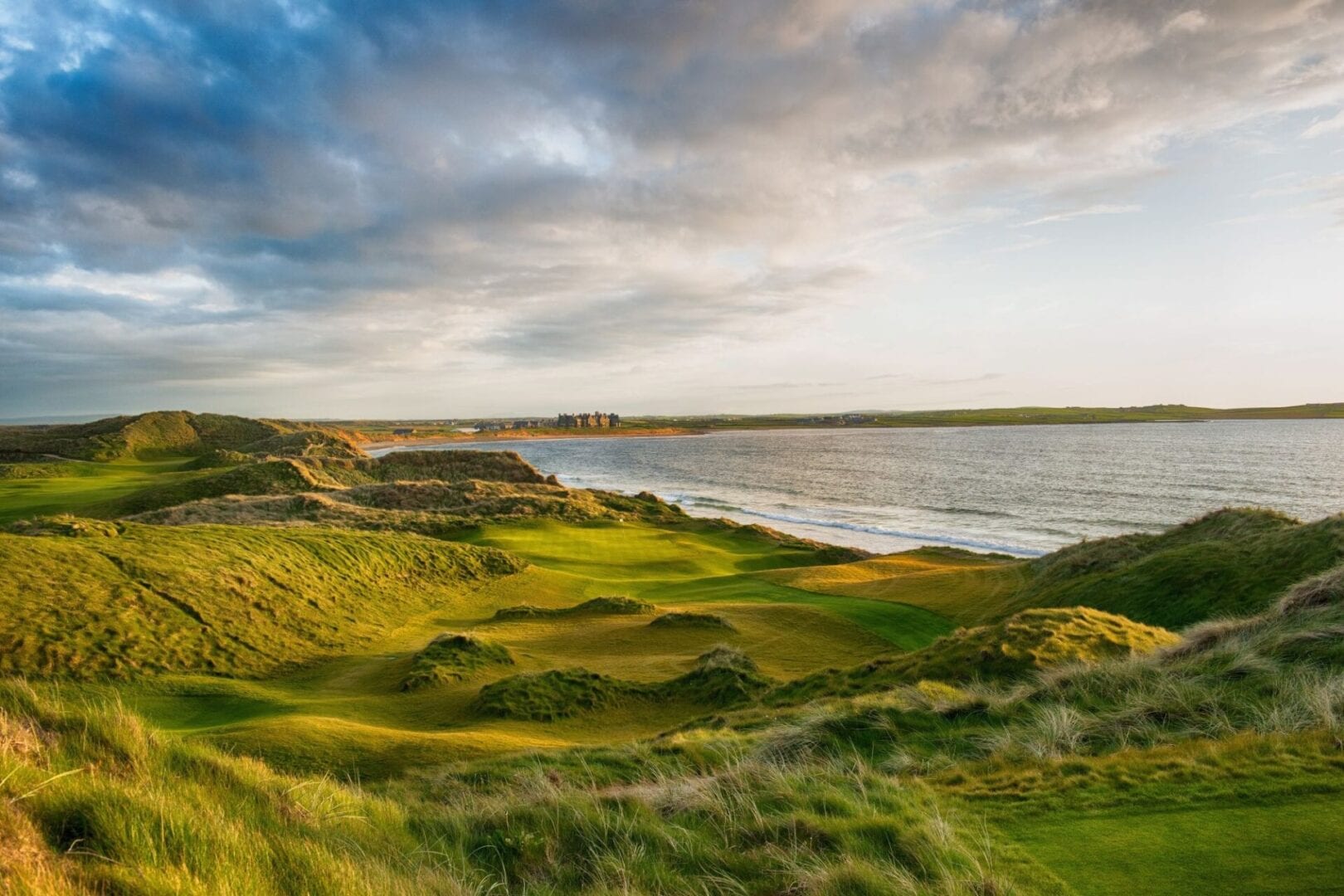 TRUMP INTERNATIONAL GOLF LINKS
7026 YARDS - PAR 72 - USGA 74.0
Full practice facilities
This spectacular Martin Hawtree-designed, 18-hole Championship golf links course is a stunning site to behold. You will experience not only an incredible course, but unparalleled five star facilities, world-class hospitality and the highest standards of luxury. Situated on over 400 acres of Ireland's most spectacular links overlooking the majestic Atlantic Ocean, Doonbeg is a fantastic golf course and a great addition to your SW Ireland trip.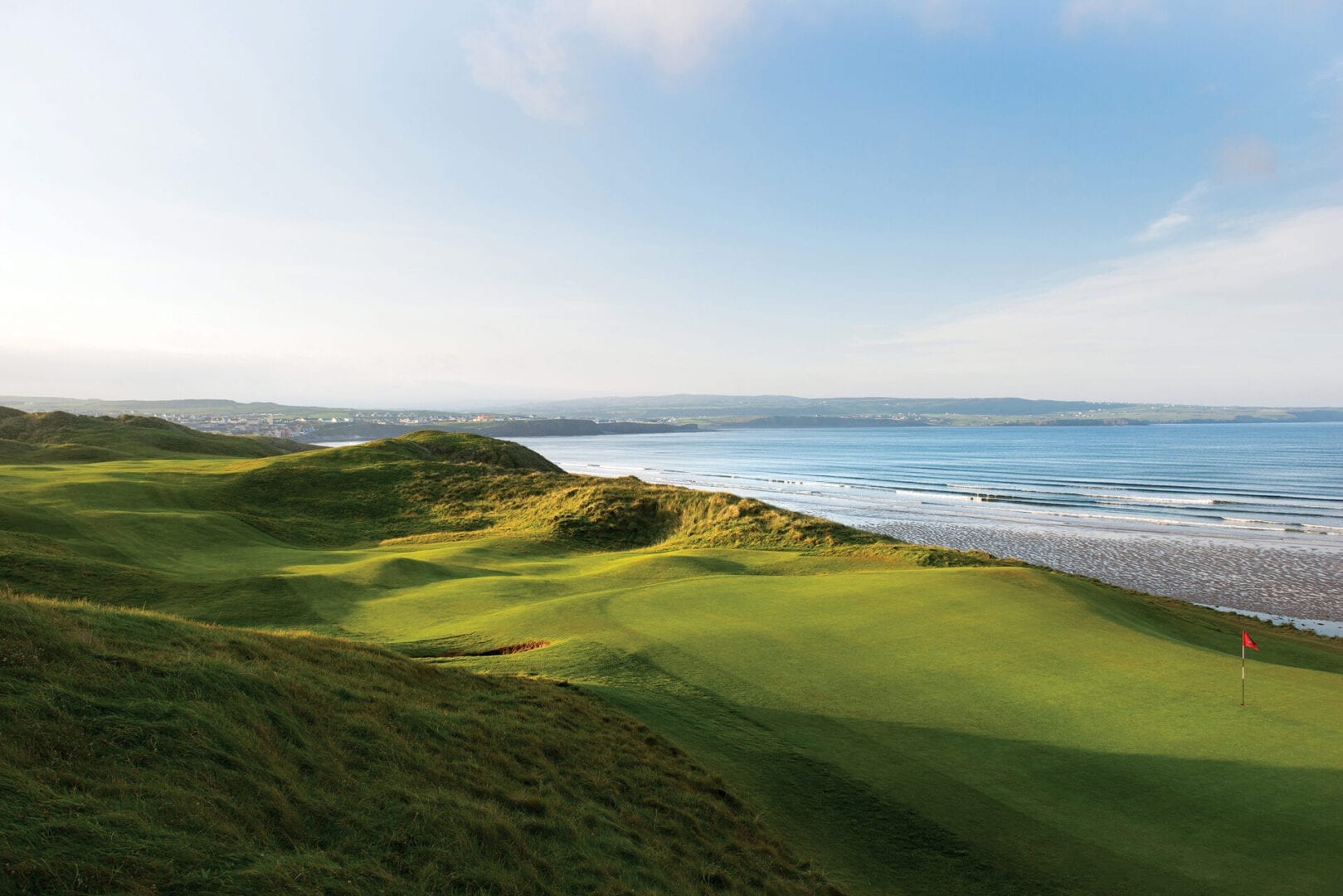 LAHINCH
6950 YARDS - PAR 72 - USGA 74.3
Full practice facilities
It has been described as 'The St Andrews of Ireland". Those who know and love the place firmly believe that Lahinch Golf Club doesn't need comparison with any of the game's other world class venues. Lahinch Golf Club is renowned for the way the links has retained all of its old virtues.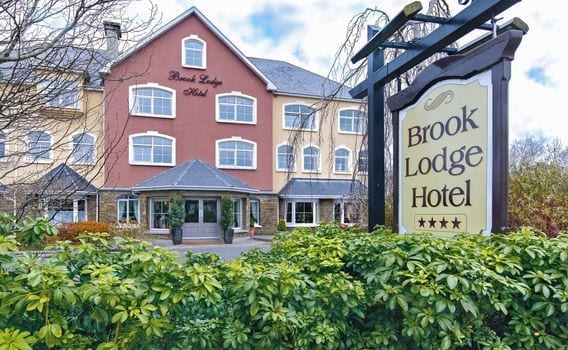 BROOK LODGE HOTEL
Location: Killarney
Located just of High Street yet surrounded by its own private gardens affording guests the peace and tranquility one might come to expect from a country retreat, yet just a few steps away from all that Killarney has to offer. The oversized bedrooms offer everything associated with a luxury 4 star hotel. Each bedroom is decorated in warm tones with bespoke furniture.
Ample free private parking is available on site so leave the car and enjoy a pint of the local draft.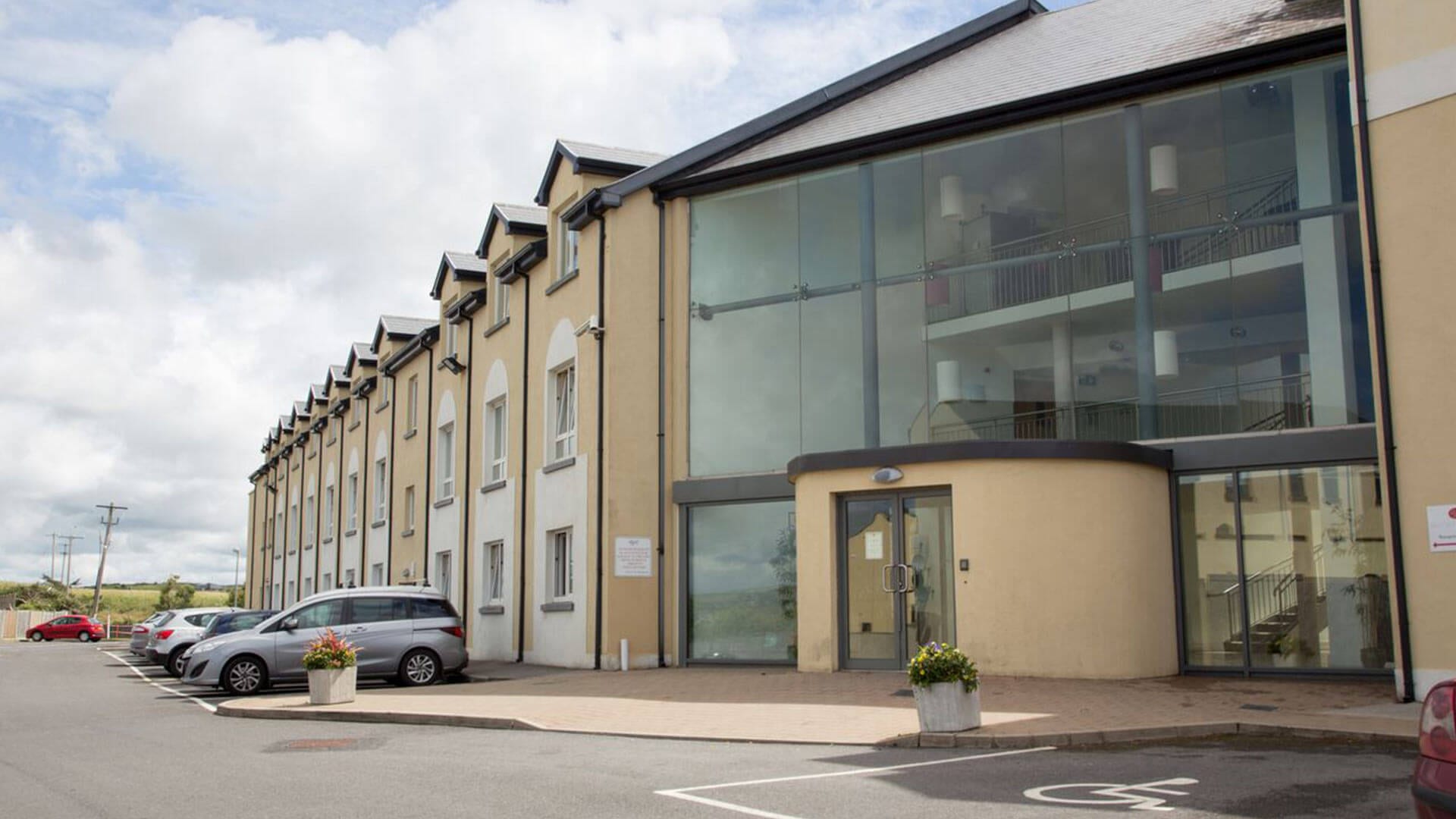 LAHINCH COAST HOTEL
Location: Lahinch
Having completed an exciting refurbishment in 2019, this improvement program has greatly enhanced the hotel's appearance and offers a unique experience for their guests. The new Reception, Bar, Restaurant and fantastic Breakers café (seasonal) are now transformed into modern relaxing dining areas and capture the senses and style of the wonderful Coastal seaside town of Lahinch.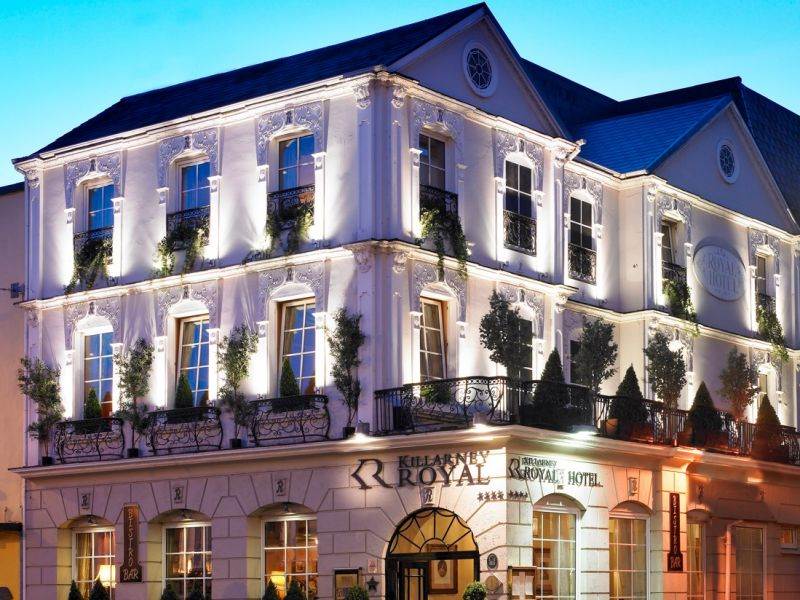 KILLARNEY ROYAL HOTEL
Location: KILLARNEY
The Kingdom of Kerry is calling, and deep in her heart lies the charming Killarney Town and our own little welcoming haven, the Killarney Royal Hotel. It has been our privilege to welcome a century of travelers from around the world to our doorstep. Offering a warm and cozy respite of a boutique 4 star hotel.
The hotel is centrally located in the heart of the vibrant Killarney Town, perfect for exploring all the town has to offer.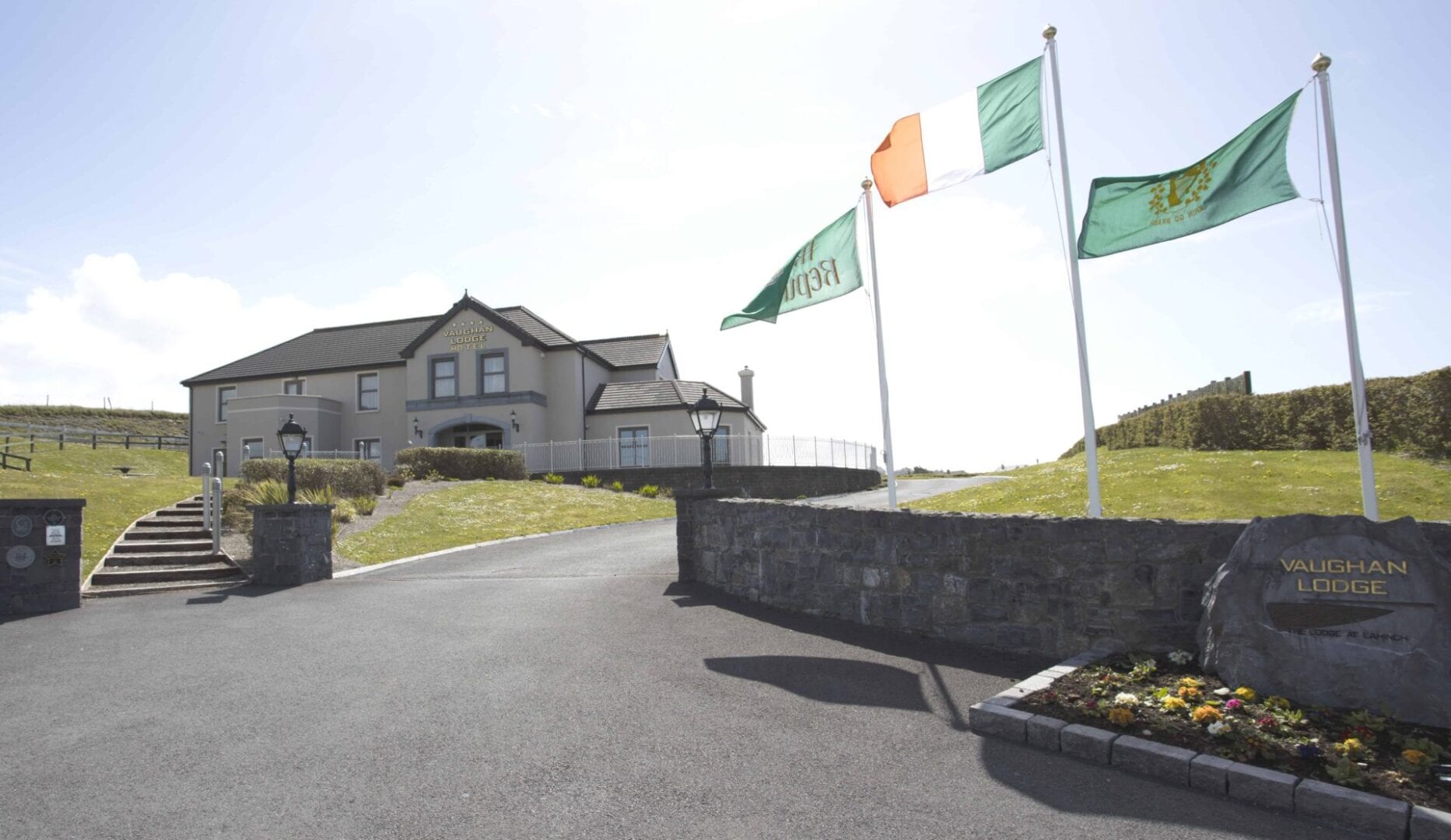 VAUGHAN LODGE
Location: Lahinch
Vaughan Lodge Hotel is an intimate 4 star modern boutique style town house hotel with a refined dining restaurant.  That's as close a description as we can give.   Owned and operated by local 4th generation hoteliers Michael and Maria Vaughan.
One of the finest Hotels in County Clare, Ireland and close to Doonbeg, Lahinch Golf Links & Adare Manor.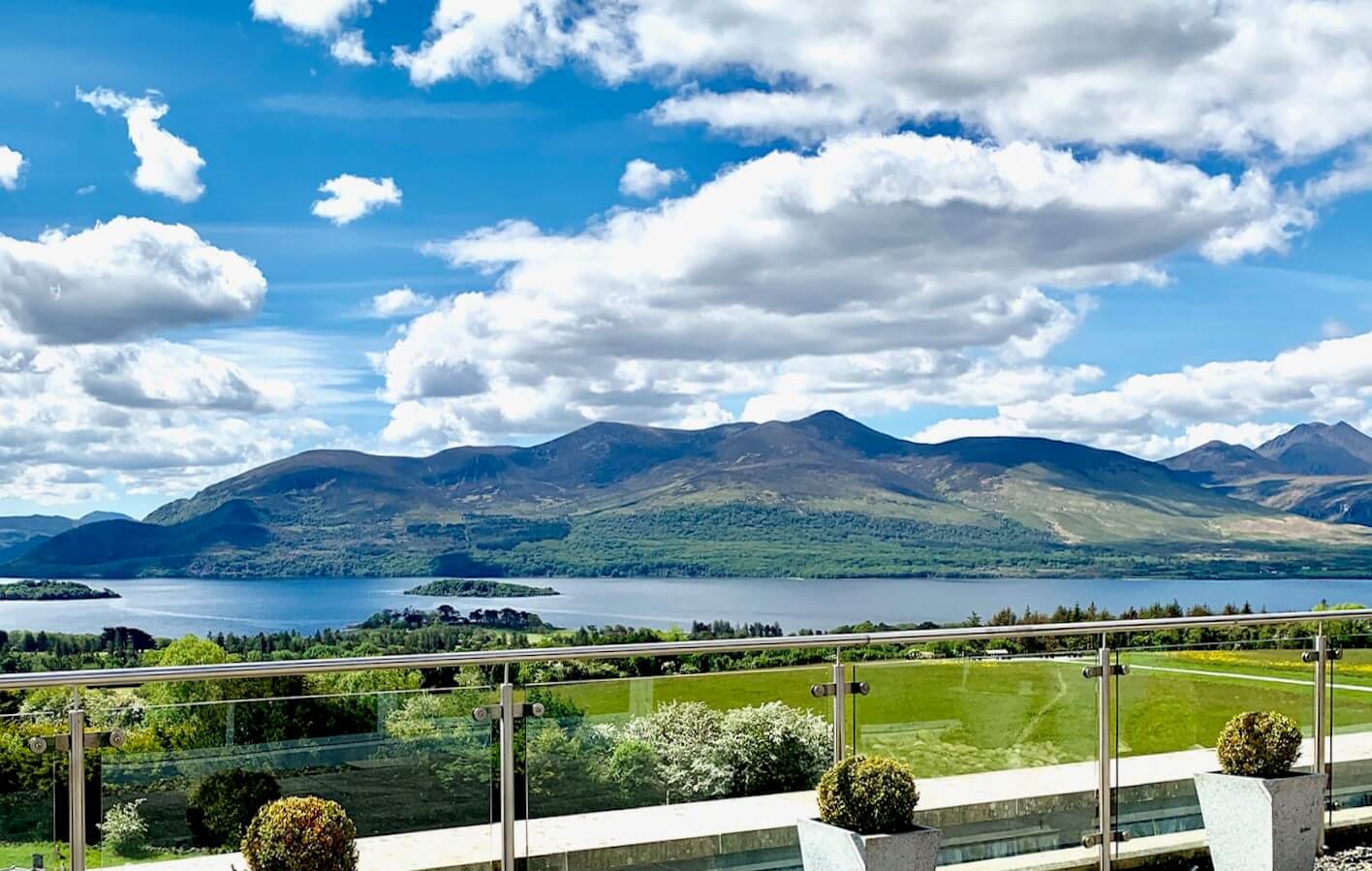 AGHADOE HEIGHTS HOTEL & SPA
Location: Killarney
One of the distinguishing features of Aghadoe Heights Hotel & Spa is the unsurpassed level of personal service. "Our world combines the luxury of contemporary comfort with the warmth of Irish hospitality. Our heritage is our love of life, our focus is sharing it. Welcome to the heart of the kingdom."
As a 5 star Luxury Hotel in Killarney, they offer a selection of carefully appointed rooms and suites, many with private balconies to appreciate the views.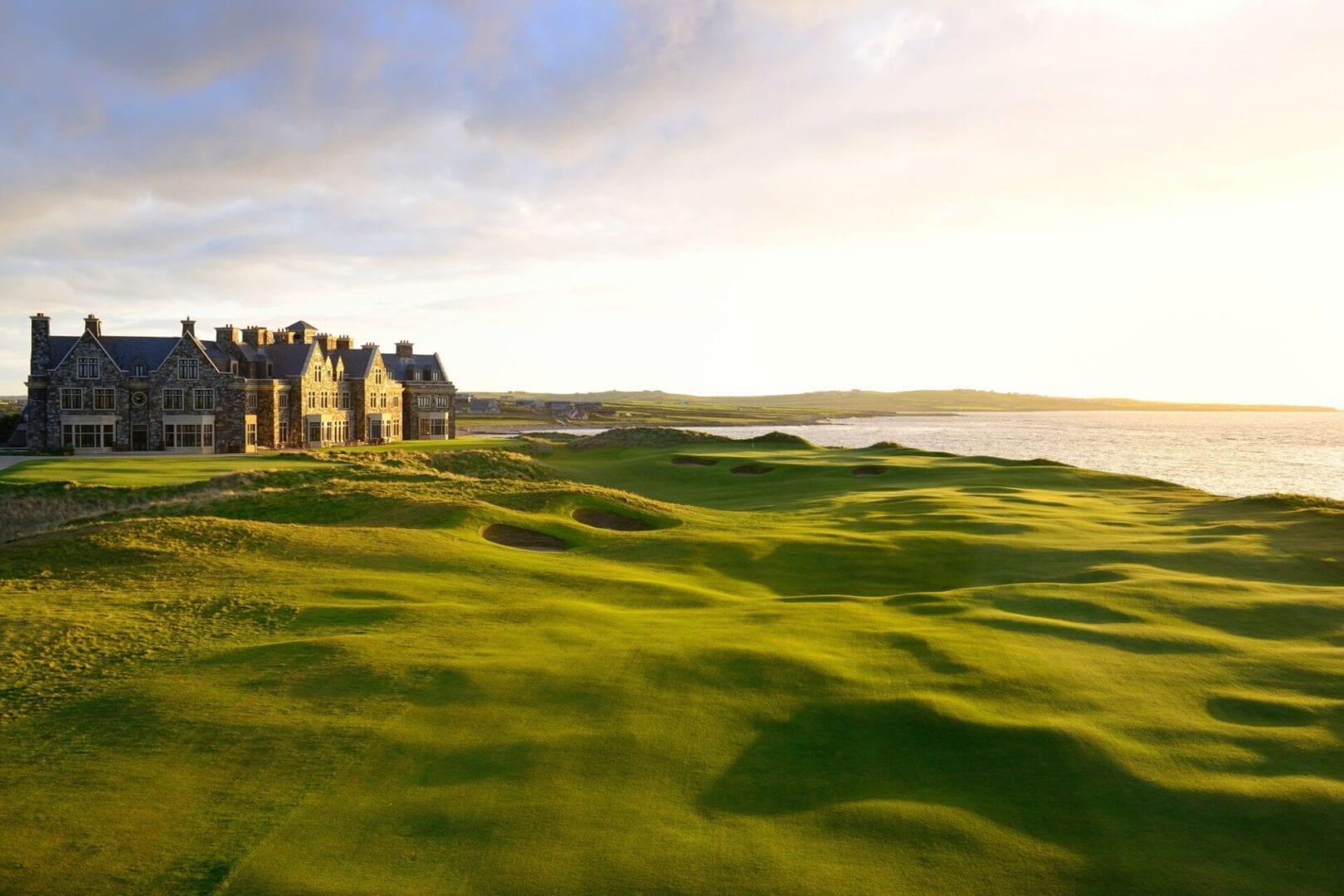 TRUMP INTERNATIONAL GOLF LINKS & HOTEL DOONBEG
Location: Co Clare
Luxury accommodations, breathtaking views, and unparalleled service await you at Trump International Golf Links & Hotel Doonbeg. Set against a spectacular backdrop of rugged landscape and shimmering sea waves, Trump Doonbeg offers a haven to golf enthusiasts.
Expect to be treated to old-world luxury and refinement in 5-star hotel suites, each uniquely crafted to ensure that your every expectation is exceeded.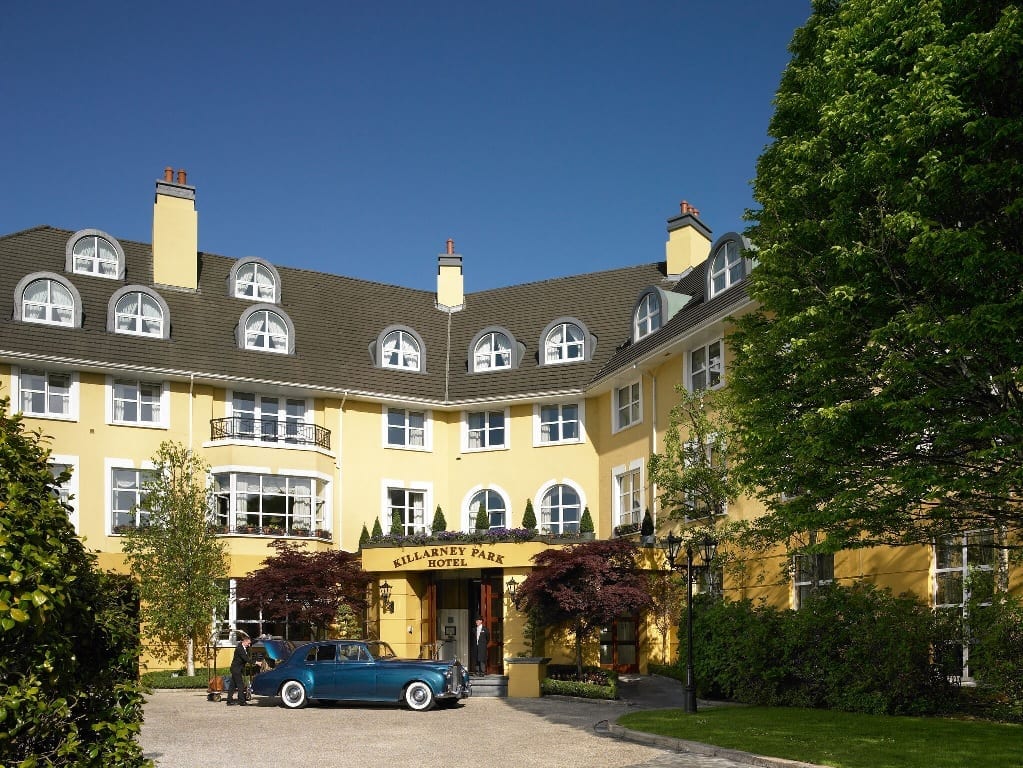 THE KILLARNEY PARK HOTEL
Location: Killarney
The Killarney Park is and has been one of the finest five-star hotels that Ireland has to offer, on the doorstep of Killarney Town Centre and nature's wonderful attractions alike. One of the last few remaining Family Owned and run five-star hotels in Ireland.
Old world elegance meets modern day luxury, where you can look forward to the solace and comfort of open log fires, flawless service and a welcome that will not find anywhere else.
ADARE MANOR
Location: Adare
A cherished heritage of Irish hospitality has been distilled into the spirit of welcome you feel within these walls. Adare Manor was a labor of love from the very start, created to delight, astonish and impress. That legacy is vividly alive in the manor house itself: sumptuously restored, brimming with gothic splendor, and perfectly appointed in every detail. It is reflected by a world-class staff whose personalized, intimate service centers you in the heart of the home.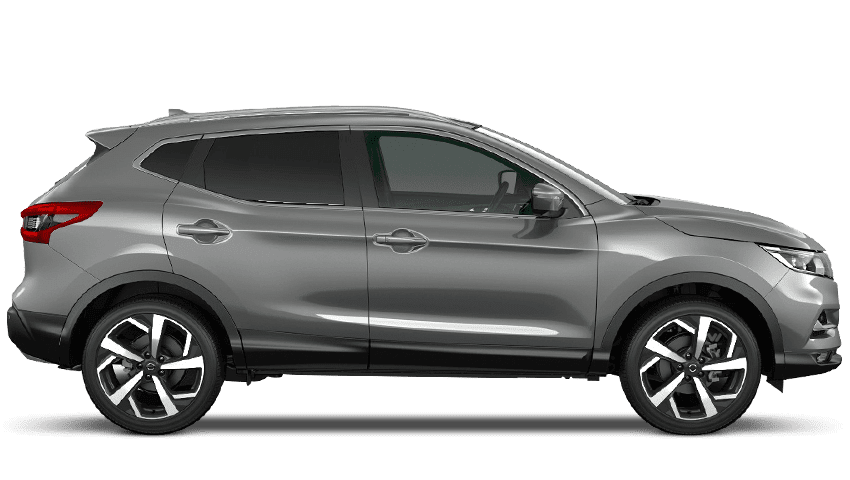 Nissan Qashqai
(or similar)
Suitable for 2 golfers
Fully automatic transmission
45 miles MPG (approx)
Air-conditioning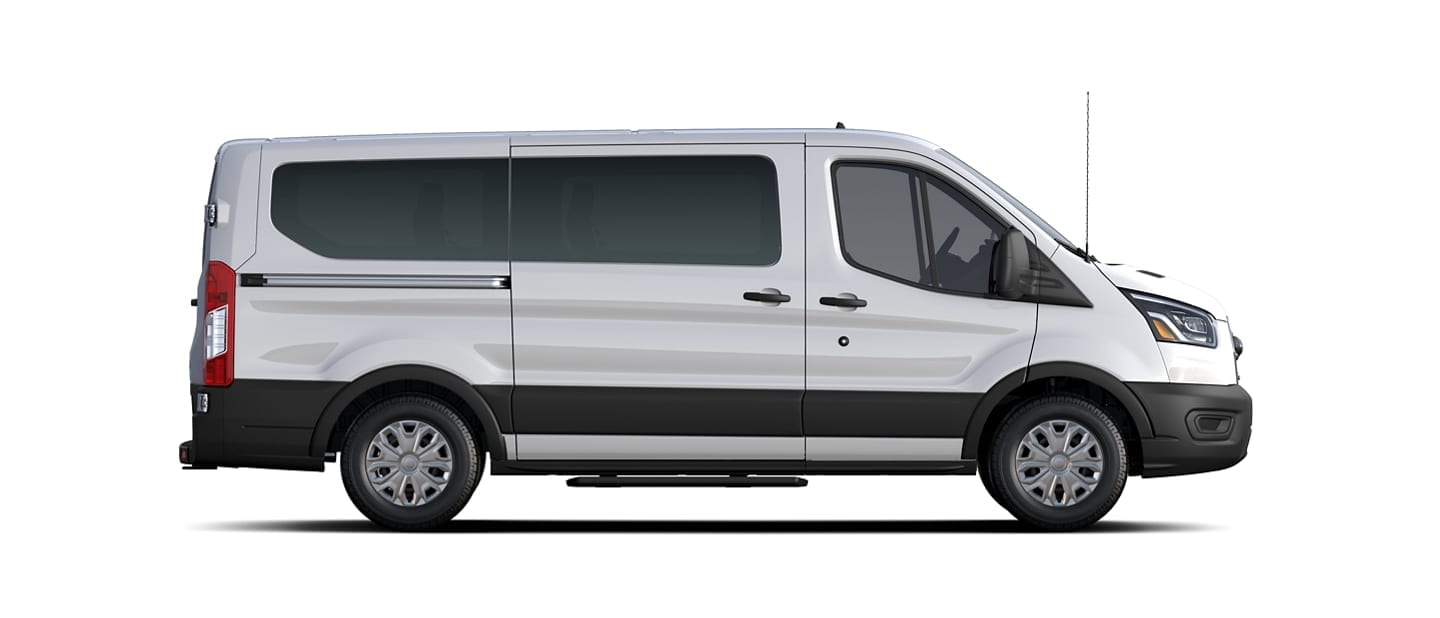 Ford Transit
(or similar)
Suitable for 4 golfers 
Fully automatic transmission
30 miles MPG (apprx)
Air-conditioning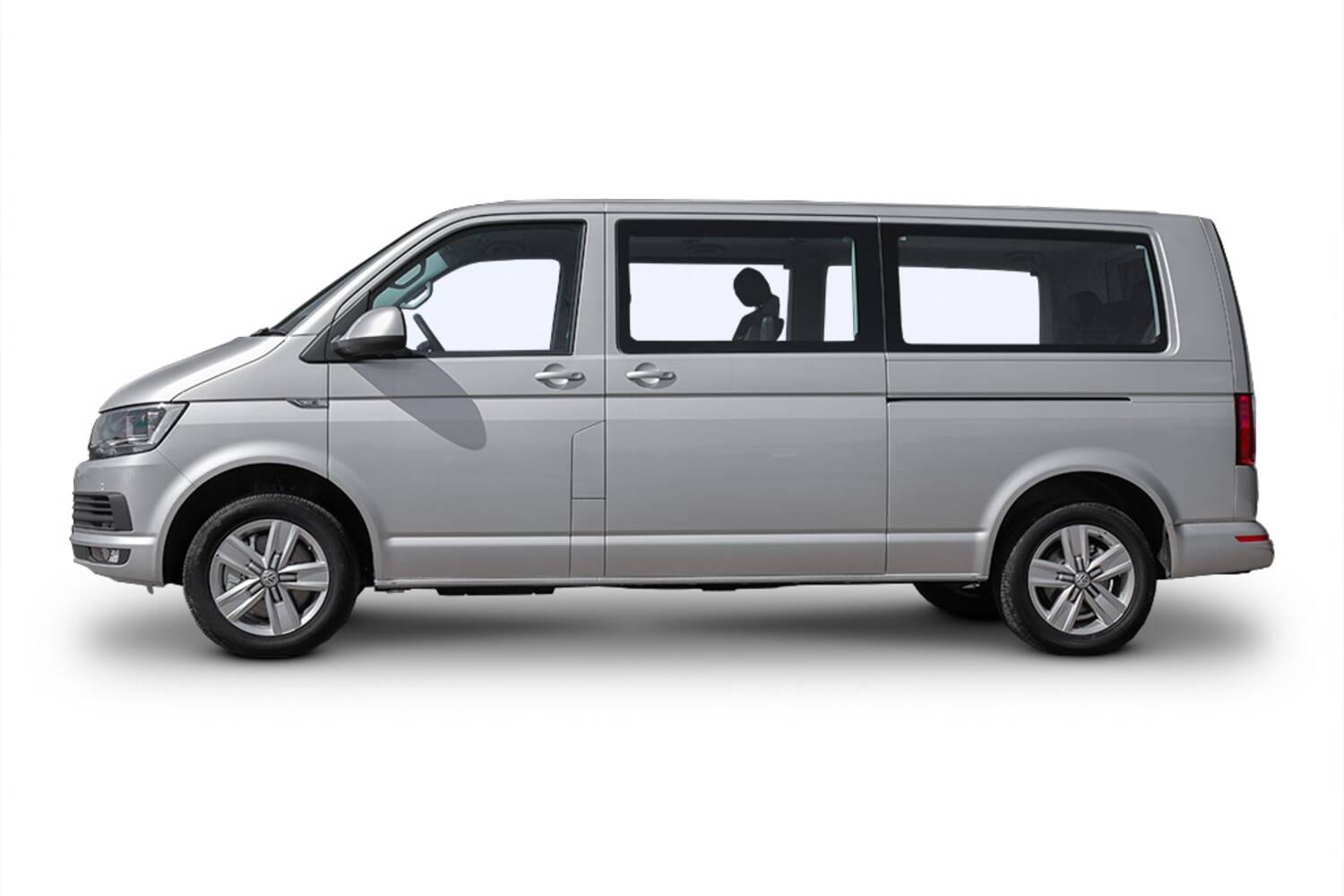 VW Caravelle
(or similar)
Suitable for 4 golfers& luggage
USB charging points
Stocked with water, soft drinks & snacks
Driven by your personal driver-guide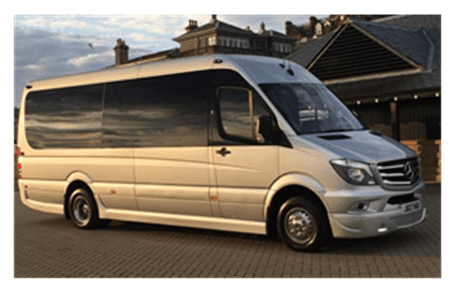 Mercedes Sprinter VIP
(or similar)
Full privacy glass
Suitable for 6 - 8 golfers & luggage
Leather reclining captain's chairs
Tables & TV's
USB charging points at each seat
Stocked with water, soft drinks & snacks
Driven by your personal driver-guide